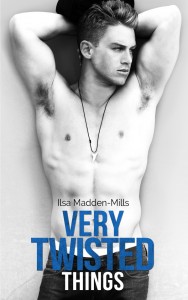 A sassy violinist who lives next door. An obsessed rock star who watches her through binoculars. And one night when she bares it all. Life will never be the same in Tinseltown. Description: Vital Rejects front guy Sebastian Tate never imagined his YouTube music video would go viral, sky-rocketing him to acting success in Hollywood. Okay, maybe he did. After all, he's a cocky dude who knows he's hot-as-hell, and it was only a matter of time before his stars aligned. But life in Tinseltown is never what it seems. After being cheated on, his only rule to falling in love is simple: Keep Calm and Don't Do It. Spying on his mysterious new neighbor with binoculars seems innocent enough, but quickly escalates into an erotic game between two very unlikely people. Twenty-year-old Violet St. Lyons is a world-renowned violinist who's lost her mojo on stage. She hides away in a Hollywood mansion, trying to find her way through her twisted past in order to make her future. He's the life of the party with girls chasing him down for his autograph. She's the introvert with a potty mouth who doesn't even know who he is. When they meet, stars collide, sparks fly, and clothes come off. Yet, giving his heart to a girl isn't Sebastian's plan; falling for a guy who craves attention isn't Violet's. Welcome to Briarcrest Academy—Hollywood style—where sometimes the best things in life are VERY TWISTED THINGS.
I got this book in exchange of an honest opinion.
AMAZING. I have to start with that, amazing story, amazing characters, amazing drama, amazing all of it!
Ilsa once again outdid her self with this new book, this author just keeps getting better and better.
This book will take to places you don't even know, feel stuffs that maybe it is not happening right now in your life but if it did, the way you would react toward them? yes she will go that far.
This book has drama, love, sex, forgiveness, hope and second chances. Its a complete book from page 1 to the last one. Lisa once again really did outdid herself with this book.
Sebastian and Violet. this book is about this two guys. Both with their past, a past they are trying hard to move forward and leave behind, this past will make the closer as a friend, as a couple, but it will also make them grown as individuals.
Violet is my girl crush, she is a violinist prodigy, she was lonely after losing her family, but she became strong, knowing that she was alive for some reason and accepting her second chance in life. She became powerful, she came the Violet her parents knew, the one that should have never left, but because she did left she is now a better version.
Sebastian Tate wanted fame, after what happened with him in his life, he was closed to love, because life wasn't fair to him, he has decided to not open his heart. Yet he is caring with Violet, he loved her even if he hides it, they tried so hard to stay away from each other, he tried harder to not open his heart to her, letting her down and also letting his self down.
But loved finds his way out, and with the help of Violet, Sebastian opened his heart, giving it a second chance, even if he is scared he will fall he gave in, and they both make a beautiful couple.
This book in conclusion for me was perfect, full of emotions, just what I needed to read in the moment, its a real book, not just a fiction because Ilsa knows how to keep it real.

New York Times and USA Today best selling author Ilsa Madden-Mills writes about strong heroines and sexy alpha males that sometimes you just want to slap. She spends her days with two small kids, one neurotic cat, and one husband. She collects magnets and rarely cooks except to bake her own pretzels. When she's not crafting a story, you can find her drinking too much Diet Coke, jamming out to Pink, or checking on her carefully maintained chocolate stash. She loves to hear from readers and fellow authors.