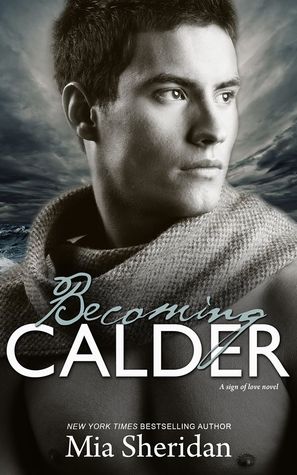 There is a place in modern day America with no electricity, no plumbing, and no modern conveniences. In this place, there is no room for dreams, no space for self-expression, and no tolerance for ambition.
In this place, there is a boy with the body of a god and the heart of a warrior. He is strong and faithful and serves his family honorably. But he dares to dream of more.
In this place, there is a girl with the face of an angel and a heart full of courage. To her family, she is the vision of obedient perfection. But she dares to want that which she has been told can never be hers.
Becoming Calder is the story of good versus evil, fear versus bravery, and the truth that the light of love has always found its way into even the darkest of places . . . From the beginning of time, to the end of the world.
THIS IS THE FIRST PART IN A TWO-PART SIGN OF LOVE SERIES INSPIRED BY AQUARIUS. THE SECOND PART, FINDING EDEN, WILL RELEASE SIMULTANEOUSLY. New Adult Contemporary Romance: Due to strong language and sexual content, this book is not intended for readers under the age of 18.
I think I need to do a standing ovation for Mia Sheridan.
WOW I mean W O W this book blew my mind away, Mia Sheridan became my favorite author with Archer's Voice but Becoming Candler, she is the author I will just make it rain for her. This is kind of author I love, giving me new love story to read. Giving me a REAL love story. Also it's being a while since I read this book and I still can't get over how deep in ym heart and mind is this book.
Calder is the guy I want to fall in love with, the way he is with Eden, is perfection, is how every guy should treat a girl, making a girl feel loved, feel desire but most important feel respected. I really love how he was such a lovely guy, and a fighter. Because it takes a lot of strength to fight like he did, to break the rules, to be free but not just for him. For the people he loves, because even if it was his freedom deep inside it was all the loves one freedom too.
"You're mine, Eden. You always have been, from the very first second I saw you."
Now talking about Eden, she was an amazing character also strong one, a rebel for me. I loved that even if it was hard sometimes she fought to for her freedom, because even if people were saying it was a selfish act, sometimes you have to think about yourself too, your happiness, because at the end is your life. And that is something you will learn from to fight for you and for others too, but you is more important than anything.
"How could this be a sin when my heart was bursting with love for this strong, kind, incredible boy."
The relationship between Calder and Eden, was beautiful, so pure, so perfect with the obstacles of the life they have, yet its one of the relationship you will have forever in your heart.
This entire book was simply PERFECT in every single possible way.
Mia Sheridan will take you away with this story to a place you will love, a place where you will cry, you will get mad, want to scream too. A place you will not want to leave.
I give this amazing book 100000 stars and I can't wait for you to read Finding Eden and see how this beautiful magnificent story will end.
Mia Sheridan is a New York Times, USA Today, and Wall Street Journal Bestselling author. Her passion is weaving true love stories about people destined to be together. Mia lives in Cincinnati, Ohio with her husband. They have four children here on earth and one in heaven.